Are you about to invest in real estate and become the owner of a house or flat? Or are you already a homeowner but want to renovate your home?
To carry out renovation work, you can benefit from a zero-interest loan, known as a "PTZ". This loan can enable you to carry out home improvements faster than you would have been able to do them on your own.
However, obtaining a zero-interest loan will depend both on the type of renovation work you wish to carry out, and then on certain conditions. In order for your bank to follow you, you will need to be able to justify the work in preparation.
So how do you get a zero-interest loan for your work? What is the eco-PTZ, an alternative to the traditional zero-interest loan? How can an Elégance au m2 architect help you obtain this loan?
Answers in our guide "Getting a zero-interest loan for your work"!
What work should be done to benefit from the zero rate loan (PTZ)?
In order to determine whether you are eligible for the zero-interest loan, let's first look at what work is eligible. Yes, not all work is eligible for the PTZ.
In simple terms, there are three types of work that can qualify for this loan:
Work to improve the energy performance of your home (subject to proof of energy savings);
Insulation and equipment work in your home (thermal insulation of floors, openings and roofing, sanitary installations, hot water and heating systems, etc.);
Rehabilitation work on your sanitation system (provided that it is not collective).
At least one of these three criteria must be met to be able to approve the loan with your bank.
Conditions for obtaining a zero-interest loan for your work
Not all buyers and owners of a house are allowed to take out a zero-interest loan for their work. Certain conditions must be met.
These are the main eligibility criteria. There are other, secondary criteria, so please consult us to find out about them.
For the purchase of a primary residence
First and foremost, taking out a zero-interest loan is only possible for the purchase of a principal residence. A few exceptions confirm the rule: bare ownership of the home, previous home destroyed by a natural disaster, disability or invalidity, etc...
This means that you will not be able to benefit from a PTZ for work on a second home. However, if you want to, you should know that you can benefit from other types of aid, such as the "Coup de pouce économies d'énergie" scheme.
According to the household's tax income
Another condition for being eligible for a zero-interest loan is your fiscal income. At the time of writing, the calculation by your bank is still based on your N-2 income. This means that for an application made in 2021, the calculation will be based on your income in 2019.
The ceiling not to be exceeded will depend on two criteria: the first, your geographical area, and the second, the number of occupants in the (future) home. In the table below, you will find all the ceilings set: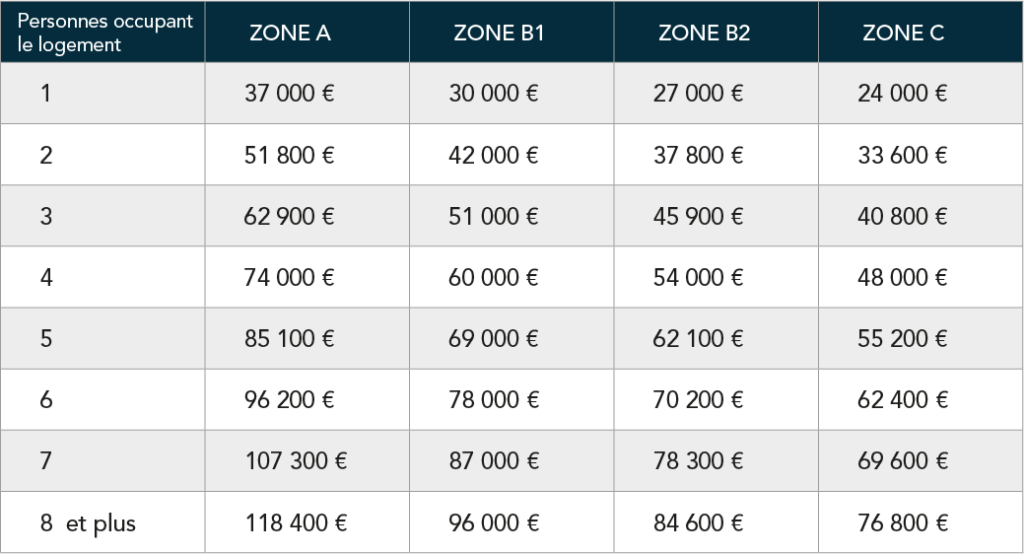 Depending on the amount of work involved in the overall property purchase
Finally, the last condition we set out here is that the cost of the work must be included in the overall purchase price of your property. Indeed, obtaining a zero-interest loan is only possible if the cost of the renovation work is at least equal to 25% of the total price of the property purchase.
For this reason, you should not underestimate the amount of work that needs to be done when applying for a mortgage. You may be tempted to do the most 'important' work and then worry about the rest. Instead, we advise you to take the opposite approach, andconsider the entirety of the work, in order to obtain the best bank loan.
How long does it take to unlock a zero-interest loan for your work?
Before you can release a zero-interest loan, you must first check with your bank to see if it is prepared to support you in your property purchase and/or work. In parallel, you can also sound out banks other than your own, in particular by using the services of a property broker.
Of course, in seeking the best bank loan rate, this will take a little more time. We advise you tooptimise this time by consulting with craftsmen now, in order to gather as many detailed quotes as possible.
Once you have reached an agreement with a bank for your loan, you will need to provide estimates for the work you intend to carry out. Otherwise, you will not be eligible for the PTZ.
You should therefore allow at least one month for your zero-interest loan to become available, while all the necessary steps are taken.
The verification of quotations and invoices by your bank
As the zero-interest loan can only be granted subject to conditions, your bank will carry out checks. You will therefore have to prove the legitimacy of your loan, in particular by presenting estimates for future work.
If you haven't done all the estimates when you sign your loan, it doesn't matter. You will then have 3 years from the granting of the interest-free loan to justify all your work by providing all the invoices.
Be vigilant about this evidence, and do not attempt to produce false invoices. In view of the high demand and the many attempts at fraud, controls have been stepped up in recent years.
The best thing to do is to submit your file to an expert. Our interior designer can do this for you!
The eco-PTZ: a zero-interest loan for energy-saving work
Another alternative to the zero-interest loan is the eco-PTZ. As its name suggests, this loan is only for renovation work to improve the energy performance of your home.
Since 2021, the conditions for obtaining the eco-PTZ have been slightly relaxed. From now on, only one energy renovation project is required to be eligible (as opposed to a minimum of two previously). However, some conditions must be met.
About the performance gain :
After the work, the conventional annual consumption of your home must be less than 331 kWh/m2 for heating and hot water production;
The gain must be at least 35% compared to the conventional annual consumption before the work.
The eco-PTZ can allow you to borrow up to €30,000 depending on the content of your work, and can be combined with the Tax Credit for Energy Transition (CITE).
Use our interior designer to unlock a zero-interest loan
In order to maximise your chances of obtaining the zero-rate loan or the Eco-PTZ, you can call on our interior designer.
On the face of it, you might think that this represents a significant additional cost to add to your work package. In reality, it can save you time and money.
Here's why!
Feasibility study of your work
When you start planning your work, it will be difficult to estimate as precisely as possible the budget you will need to allocate.
By calling on the services of an Elégance au m2 interior designer, you can be sure that you will not make any mistakes when it comes to the major work to be carried out. Upgrading, improving energy performance, fitting out according to the building... Everything is scrutinised by our expert, so to request the most accurate estimate of the amount you will have to borrow.
This prevents you from underestimating the work, which could put you in an awkward position with your bank. In fact, the excess work to be carried out will no longer be eligible for the interest-free loan after you have taken out your first envelope.
Support from your bank
Once we have defined this envelope, we will support it with your bank so that your zero-interest loan is accepted.
In addition, the fact that you have called on the services of an interior architect will prove your willingness to carry out the work in a "state of the art" manner. This will be an additional guarantee of confidence that should make it easier for you to obtain a loan.
Elégance au m2 services eligible for a bank loan
The zero-interest loan is not the only loan that can be taken out to renovate your house or flat. If you are not eligible for the PTZ, other specific loans for work can be taken out with a bank.
Elégance au m2 can assist you in putting together your file in order to optimise the chances of feasibility of your development project.
Finally, you should know that the costs associated with our services are of course eligible for a bank loan and can be included in a mortgage.
Contact us for any information request or for an initial discussion on your property purchase project!