Asking for advice from a professional architect and interior designer before buying a property means save time and money.
This is why our firm Elégance au m2 is at your disposal wherever you are in France to accompany you during your real estate visits.
To make your real estate project easier, we have created the concept of a real estate designer for you. 
A single contact with multiple skills, between real estate expertise and interior architecture, decoration and interior design!
Why should you ask for an architect's diagnosis before you buy?
A property purchase cannot be made on a whim. You cannot afford to be approximate when planning your interior design or budgeting for your construction work.
Expert advice from an architect is always welcome, especially as it is objective. This additional advice is even essential when it comes to planning your future interior design. 
Concrete estimate of the works (including technical installations if necessary), space optimisation... The presence of an interior architect at your side is decisive. His diagnosis plays a central role in deciding whether or not to buy.
By calling on a property designer from our firm Elégance au m2, you combine all the important roles to be played during a property visit. Don't miss out!
Objective and independent expertise during your visit
During a pre-purchase visit, we support the real estate agent and his market expertise with our design and architectural expertise. The presence of our interior architect will allow you to obtain an expert and independent opinion on the potential of the property.
The purchase price of the house or flat, its location, its foundations and technical installations, its surface area... We analyse each criterion of the property to measure its suitability for your project.
Taking into account your comments and expectations, we are able to tell you whether or not you should position yourself for the buy.
An initial estimate of the development and renovation work
The greatest difficulty for a buyer is to be able to project the future interior design before buying.
What kind of renovation work is needed and what is the estimated budget? We can give you an accurate idea of the cost in time and money that you will need to plan for.
Depending on your situation, our interior designer will assess all the possibilities in terms of design and renovation. This visibility is essential for you to take the plunge.
Ideas for optimising your space and decoration
During a property visit, you should be able to imagine yourself in the house or flat. And if it is not you, imagine that you could rent or resell it after some work.
Without the support of a professional, it is difficult to envisage the optimisation of your space and the interior decoration that you can associate with it. 
Our interior designer, after studying all the rooms during the visit, will be able to give you an initial diagnosis. From this diagnosis, ideas for the layout and decoration will be drawn up.
Advice before buying a flat
The main question you should ask yourself before buying a flat is how much space you will have. Whether it's a small studio or a large loft, the possibilities for your flat are not infinite.
Our interior designer will give you sound advice on the possibilities available to you depending on the layout of the flat.
Advice before buying a house
Buying a house requires a lot of attention from the buyer, especially if it has an exterior. Depending on the expressed need and expectations, everything must be examined to gather a maximum of criteria before making a choice. 
Our interior designer, based on the examination of these criteria and the house visited, will be able to advise you on the feasibility of the interior and exterior design.
We think about the layout of the house according to a balance of energy performance, interior comfort and space optimisation. Once these explanations have been made, the objective is to convince you or dissuade you from buying the house.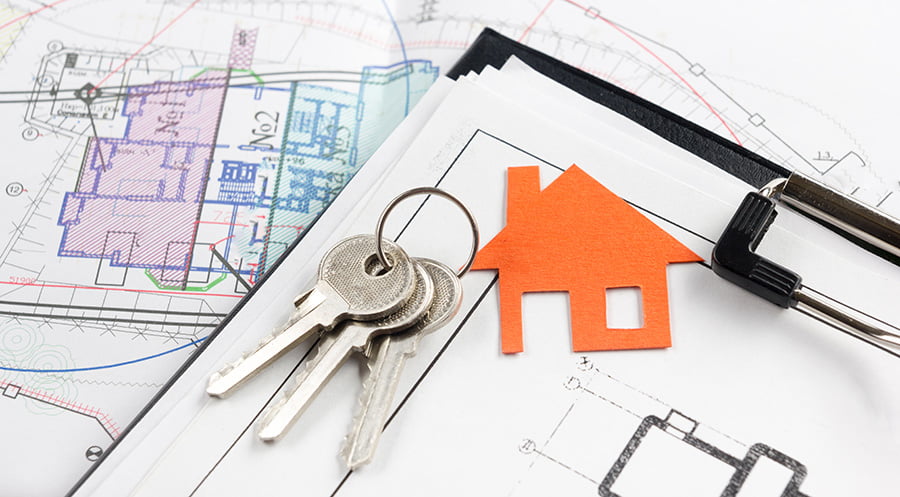 With Élégance au m2, pre-purchase advice is free!
If there is one concrete reason to use our acgency Élégance au m2 during your pre-purchase visit, it is this. Our advice is 100% free.
There are two possibilities, either we have been advised by your estate agent or you discover us independently. In both cases, we can intervene anywhere in France to accompany you during your visits.
Are you wondering why we offer this interior design expertise for free? 
Simply because we are convinced that this is where it all happens. And more than that, we are convinced that your real estate project can become reality.
Our turnkey solution for your future interior design project
If the sale is successful and your real estate project takes shape, we will not abandon you. Our real estate designer is at your disposal to conceptualise your future interior design and the organisation of your work.
2D, 3D, and layout plans, budgeting, consulting companies, sourcing all furniture accessories...  We can manage your interior design project from A to Z right up to the handover of the work.
To call upon Elégance au m2is to ask for a turnkey service based on :
Proximity and individual approach,

Collaborative tools in advanced digital technology,
And attractive and transparent prices (price per square metre).